Lafayette's Gold-
The Lost Brandywine Treasure
Set in the beautiful Brandywine Valley outside Philadelphia, Lafayette's Gold is a mystery thriller about the Battle of the Brandywine which occurred on September 11, 1777. The story highlights George Washington and the Marquis de Lafayette (a 'Founding Son' of the American Revolution), weaving in a modern day mystery involving shady antiquities dealers and hidden treasure.
Jim and Natalie live near bucolic Chadds Ford, Pennsylvania- known for scenes of rolling hills, horse farms, 1700's-era stone buildings and the Wyeth family of artists. While canoeing along the Brandywine River, they come across clues to a treasure hidden for over 200 years- left by a hero, a patriot to the cause of American independence. The pursuit of these cryptic clues takes them to a Colonial-era abandoned barn and many local historic sites, thrusting them into a web involving a multi-state Mafia ring of fake antiquity dealers and an FBI sting operation which threatens their lives.
Lafayette's Gold is an historical mystery that brings history to life and should thrill both mystery lovers and those who enjoy reading about the roots of our republic...
Places in the book:
Reviews
"Being a Revolutionary War history buff, I was somewhat skeptical of a novel with mobsters and cats being tied to Washington and Lafayette. About three pages in, I was hooked. The author weaves in interesting 18th century history of the Brandywine "incident", along with stories of Washington and the Frenchman, around a 21st Century treasure hunt. A most enjoyable read."
Michael
Farmington, MI
"I'm a busy artist and I rarely make time for anything other than art books. I love history though and Gene's book was a wonderful read. It was timely for me to read it around the 4th of July and made me revisit my appreciation for our country's fragile beginings. It's amazing how many times our future as a nation hinged on the efforts of a single brave soul. Gene weaves some of this history in with modern day adventure in an exciting way that kept me up late each night, I just kept turning the next page to see what would happen next. History buff or not, give this book a look, you won't be sorry."
Cody
Jerome, AZ
"I just finished LAFAYETTE'S GOLD  (D.A.R. puchased). Having lived in and around Chester County for over 50 years, you took me to many of my favorite haunts and opened up some new ones.  I thought I had purchased a documentary of sorts and delightfully found a great murder mystery to boot.  I loved it and just ordered VINEYARD DAYS from Amazon. I have many fond memories of the Vineyard, having vacationed there several times, and can't wait to read it."
Roz Souser
Daughters of the American Revolution
They say you should write what you know about and it's very obvious that Gene Pisasale knows a lot about American history, but also about the Brandywine valley, relationships, the good life, and going for the gold. There is also intrigue and suspense. At times this novel is like Jeff Shaara meets James Patterson with maybe even a little Erich Segal thrown in.It's a fun read and one that will have you turning the pages to find out what will become of Jim and Natalie. You'll even learn a few things about Lafayette and the Brandywine Battle but I promise it won't feel like a history class.
Linda Sargent
More reviews...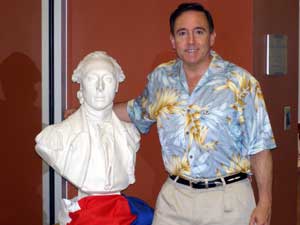 Gene Pisasale at Lafayette College where his novel "Lafayette's Gold" was accepted into the Special Collections.
__________________________________
Purchase from Amazon.com